There he was, curled up in the corner of the room. Sitting by himself. He said no words when questioned about his day. Instead, he wandered off into space, staring through the window.
A few friends of ours mentioned he had changed! They said, "he acts different now". "He won't come to hang-outs with us anymore" was always the reason they gave for no longer inviting him to dinners. His girlfriend said she was concerned, but maybe he will get over it one day.
That one day never came!
This is a true depiction of clinical depression. The first time I encountered depression was as a medical provider. Later in life, I saw its manifestation in friends, colleagues, and family members. I have personal stories of my own, but the stories of my friends have impacted my life.
So, what if I told you- Your doctor suffers from depression? Would you believe me? I hope you do! No one is immune to depression. In fact, I did some research on the prevalence and incidence of depression in Physicians during the COVID pandemic. As previously mentioned, Healthcare workers are experiencing tremendous stress. It is no surprise that this population is also affected by depression.
Statistics on COVID-19 and Doctors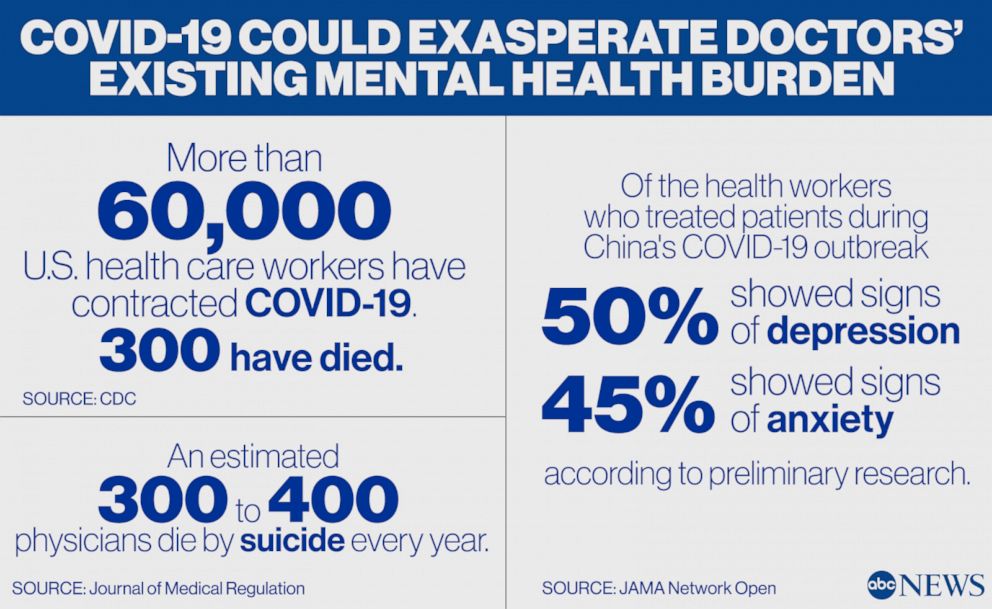 There is so much work to be done in recognizing depression and in receiving appropriate care for depression. Often, we look at the outward appearance of others and make quick assessments. We may tell ourselves that because they are doctors, they have no problems. But, the reality is far from our first assessment.
One of the roles of my blog is to highlight the shortcomings of the healthcare system and to humanize physicians and those in the healthcare authority positions. Too often, there appears to be a barrier between a patient's experience and the experiences of a physician.
However, one thing unites us all. WE ARE ALL HUMAN, as such our experiences and challenges are similar.
Let's Highlight Signs and symptoms of Depression
Prolonged Sadness
Feeling a sense of hopelessness
Anhedonia (loss of desire for things you find pleasure before)
Suicidal ideation
Changes in weight and appetite
Additional Signs and Symptoms . If you or anyone you know are experiencing any of these signs or symptoms of depression, please contact your healthcare provider. If you are having thoughts of suicide, below find contact information for National Suicide Hotline in New York City. Telephone #
800-273-8255
How to Manage Depression
Depression is treated and managed through multiple modalities. It is recommended to use a combination of medication(s) (SSRIs, SNRIs, mood stabilizers) and psychotherapy, cognitive behavioral therapy, and/or behavioral therapy.
Wellness Tips
Closing Thoughts
Anyone can be affected by depression. The next time you are visiting your family doctor's office, consider that they also need someone to check-in on them.
Like I always say, we are all a work in progress. Until next time, let us be kind to each other.
Connect with us on Instagram @- JAARABLOG